English version
Waymarking of hiking routes
Publié le 02 octobre 2023
Waymarking and signposting
To enable hiking and its development, the FFRandonnée has created a "stadium" that now includes almost 115.000 km of long-distance footpaths (GR® and GR® de Pays) as well as around 112.000 km of walking and hiking routes (PR®), making a total of 227.000 km recognised and maintained by almost 9.500 volunteer trailblazers of the Federation.
Waymarking types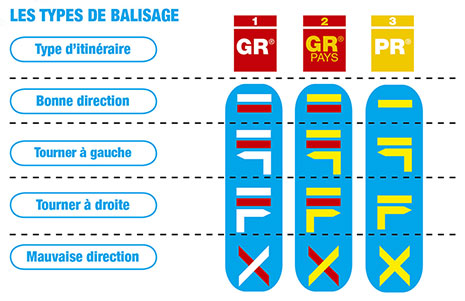 The GR® : long-distance hiking route, point-to-point or loop, certified by the FFRandonnée. It is made up of a number and usually a name (for example : GR® La Loire sauvage à pied). It is marked in white and red. It allows you to discover an area or a region (administrative, geographical, historical, cultural, etc.) during a multi-day hike.
If the route remains within a geographical entity, it can be called GR® de Pays. It consists of one name only (for example: GR® de Pays Tour du Beaufortain). In this case, it is marked in yellow and red.
The PR® : walking and hiking route, point-to-point or loop, lasting a day or less (1)
It is marked in accordance with the official Waymarking and Signposting Charter. It is identified by a number and a name briefly describing the route (geography, history, heritage).
It may be offered as a single route or as a network of loops of varying size to meet the needs of different audiences. In a network of loops, each loop is identified by either a name or a number.
(1) A hiking day corresponds to one stage, i.e. a maximum of 20 to 25 km (or a maximum of 8 hours of walking in the mountains).
Over this distance or duration, it is essential to have somewhere to stay (see certification procedure).

In the field, the marking of routes is carried out using various methods: paint, stickers, PVC plates, aluminium on range poles, signposts... and on various surfaces: rocks, trees, walls, poles... Their frequency depends on the terrain.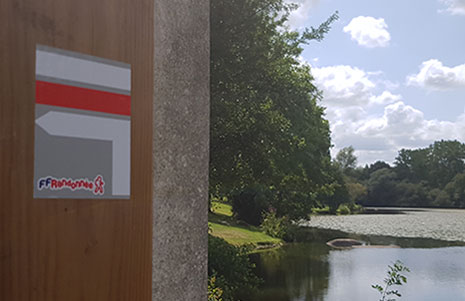 The waymarking and signposting of the routes is governed by an official charter. This charter ensures coherence within the territory and guarantees the quality of materials and production processes (respect for the environment of the route, sustainability of materials and colours used, etc.).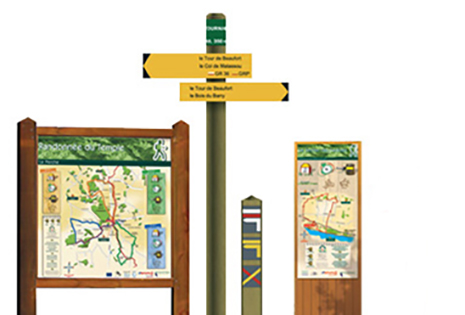 Here is a good example of the waymarking carried out by our volunteers on the GR®69 La Routo.
Your wish to support the FFRandonnée's waymarking activities with your donations