English version
Discover the long-distance hiking routes GR®
Publié le 02 octobre 2023
The GR®, changing routes
>> National network of GR® and GR® de Pays routes :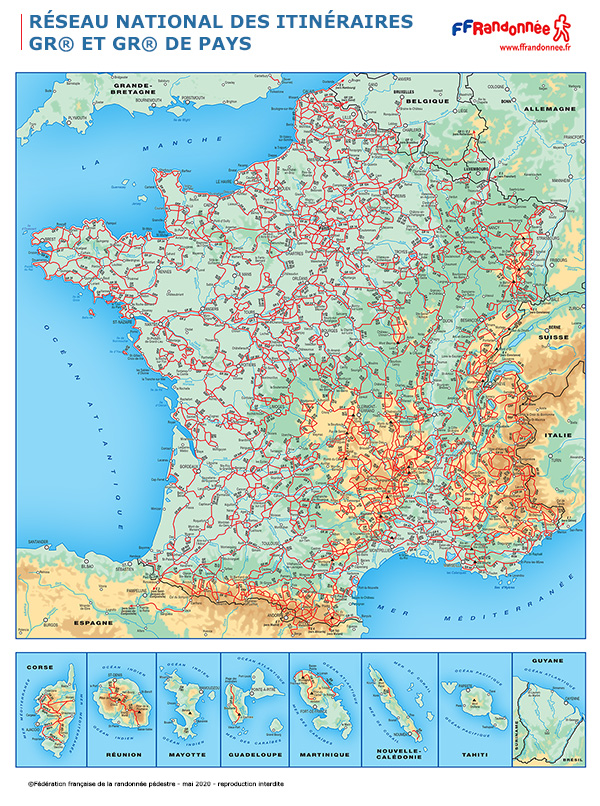 For over seventy years, the white and red markings have symbolised the long-distance hiking routes, the GR® and have been a rallying point for all long-distance adventure enthusiasts.
Every year, tens of thousands of walkers - among the estimated 18 million in France - in search of fresh air and close contact with nature, set off for a few weeks on paths that wind through forests and countryside, across mountain ranges, along the coast to the most remote French islands, or along meandering rivers...
Once used for economic purposes as a link between communities, today's footpaths are often ancestral routes that still preserve the memory of stories about customs officers, smugglers, pilgrims, peddlers, shepherds... They have adapted to their new social function: tourism.
They have become places of discovery, encounters and sensations. Their cultural, heritage and historical appeal has created a real phenomenon, so much so that some of them have been classified by UNESCO, such as the French routes to Santiago de Compostela.
They preserve traces of the past but are constantly changing as new sections are created or extended, such as the GR®34 to Saint-Nazaire.
Changing routes
Every year, FFRandonnée volunteers open up new paths all over France. This allows walkers to go even further and discover new territories. Sometimes unknown, these areas and regions are highlighted and revived to the rhythm of the strides. Long-distance walking has enjoyed a resurgence in popularity in recent years, with major routes being (re)created in France and Europe.

The GR®800 Vallée de la Somme, the GR®738 Haute traversée de Belledonne or the GR®69 La Routo are among these new routes. Today, they offer hikers a change of scenery at hand (or foot) and allow anyone to try their hand at backpacking.

Here you can discover some of the GR® routes that are more than ever in the news, and always very popular.